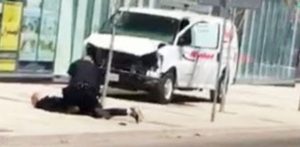 On April 23rd, 2018 at approximately 1:30 in the afternoon, a male who's name I refuse to utter but one whom was presumably fed up with the rejection of women, rented a full sized van and plowed through a crowd of people walking on a sidewalk along one of downtown Toronto's busiest streets killing ten and seriously injuring over a dozen more.
When the vehicle was stopped, the suspect was confronted by Ken Lam, a Constable with the Metropolitan Toronto Police Service in a single officer unit and taken into custody where he now faces ten counts of first degree murder and thirteen counts of attempted murder.
Since that time, criticism of that officer's actions and his failure to kill the suspect has erupted from people like those whom Theodore Roosevelt, in his speech The Man in the Arena, referred to as those "cold and timid souls who point out how the strong man stumbles and how the doer of deeds could have done them better."
Although killing the reject who had just committed the most heinous mass murder in the city's history may have satisfied the public's bloodlust and undoubtedly drawn the condemnation of others, it also would have made Constable Lam guilty of murder.
For legal clarity, the Criminal Code of Canada states, and I paraphrase, that a police officer is justified in using force that is likely to cause death or grievous bodily harm, like shooting a person for example, if that force is necessary to protect that officer, or another person from imminent or future death or grievous bodily harm.
When the suspect and his death rental mobile came to rest there was a standoff between himself and Constable Lam. Lam drew his firearm and challenged the suspect at which time the suspect failed to comply with the officer's commands to surrender. Although the suspect's actions leading up to this standoff were deadly, what was occurring at that moment was not. This is the key. An officer has to take the circumstances that he is presented with in that situation.
I'll caveat that last paragraph. I'm not suggesting the actions of the suspect leading up to the stand-off should not be given serious consideration, they should.  They demonstrate his willingness and intent to use deadly force and can no doubt culminate a part of what is referred to in training circles as the Totality of Circumstances. However, it cannot justify the stand alone use of deadly force after the fact. In a different situation with similar circumstances and factors too numerous to debate, maybe lethal force would have been justified, but not here.
If the situation changed, for example- if the suspect began to put that vehicle into motion- an officer could reasonably fear for future loss of life given the suspect's previous behavior and then would most likely be justified in using lethal force to stop that threat, but that was not the case here.
What occurred was a police stand-off in which the suspect did not want to be taken into custody and figured the easiest way out of being held accountable for his actions would be to have the police kill him. It's called suicide by cop and it's a thing. The suspect made several threatening gestures to entice Constable Lam to end his own life including reaching into his pocket and brandishing a cell phone like a pistol. He even verbally taunted the officer to kill him stating that he 'had a gun in his pocket.'
https://www.youtube.com/watch?v=Bih9X2wp7wg
Constable Lam did not shoot the suspect because the reality was that he did not fear imminent death or grievous bodily harm. It did not exist because Lam recognized that the suspect was holding a cell phone, not a gun and did not belief he was armed otherwise. Acting alone, Ken Lam recognized the suspect's ploy, maintained vigilance and acted in the manner in which he was trained in order to bring this monster into custody and stand accused for what he had done. Constable Lam is neither coward or hero. He is a police officer who made the right call.
Constable's Lam's only failure was that he did not take on the role of executioner, and because of this, the suspect's suffering did not end on the sidewalk that afternoon but will now continue on and on in some dank prison cell for the remainder of his abundant years.
So, thank you Constable Lam for facing evil in its purest form and not faltering. Thank you for acting in the professional manner in which you were trained and sworn to do; and for temporarily silencing the throngs of accusers of police officers as violence mongering murderers.
Thank you for thwarting this coward's easy exit strategy and replacing it with the promise of decade after decade of suffering and misery in a metal box.
But most of all, thank you Constable Lam, and all others in that arena for reminding us that it is not the critic who counts. Who counts are those whom are "marred by dust and sweat and blood, for actually striving to do the deeds, the great devotions, for spending themselves in a worthy cause so that their place shall never be with those cold and timid souls who neither know victory nor defeat."